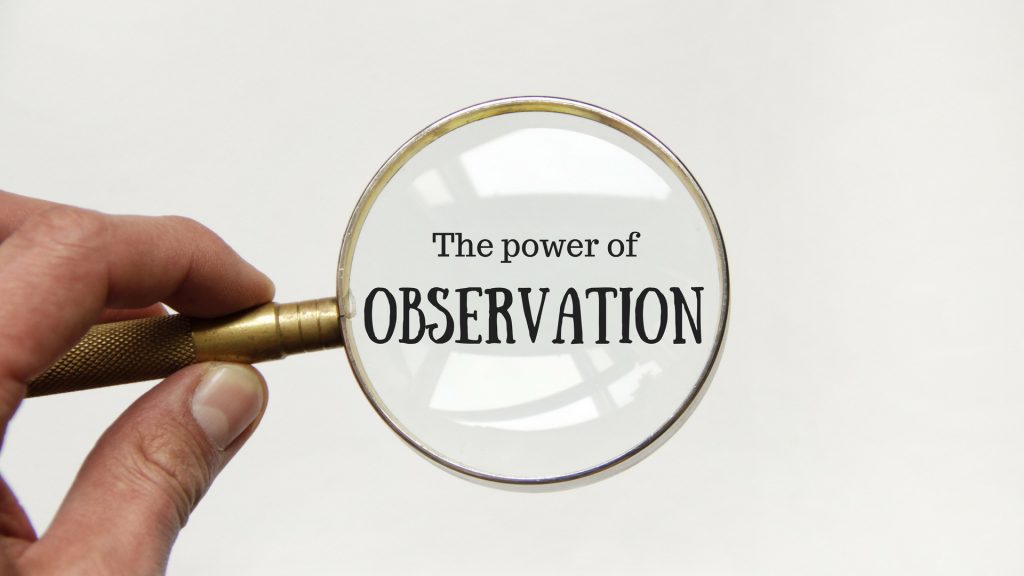 One of the key principles that every Montessori teacher learns during training is to observe. As a high school and college student, observation was usually relegated to my science classes. I guess that makes sense since Maria Montessori was trained as a doctor, not as a teacher. In order to learn about children she researched, she created a natural setting for young children and then she sat back and observed the children.
It was through her detailed observations that she learned so much about young children. She watched them with no preconceived notions. She wanted to find out from the children how they learned, what was important to them and how to set up the best environment to help them grow and develop.
As a teacher, when things go awry in the classroom, one of the first things I set out to do is observe the class. Let me give you an example. At the beginning of the year I found that the students had a lot of difficulty lining up at the door (which we need to do several times a day). There was pushing and pulling, arguing and fighting. It was, frankly, mayhem. So, I took a day to observe what was going on during line up time.
When observing, you want to really just watch without opinion. So, in my example, I noticed that the children were bumping into each other, standing very close together, had a difficult time knowing what was in front of rather than beside the next person, etc.
What I always want to avoid is being negative with the children. I don't want to be yelling or telling them what they are doing wrong. I strive always to keep things positive (easier said than done). What is best of all is if I can change the environment to solve the problem and keep myself out of it all together.
So, what did I do after observing? I placed small pieces of tape equidistant on the floor on which each child would stand. In this way the children were in a line, each person had their own space and there was less pushing and fighting. Did this solution eliminate all pushing and fighting? No. No solution is ever perfect but this one went a long way in solving our difficulties.
Of course, this example doesn't really help you as parents. We don't really line up our children at home! What I do want you to think about is how to observe your children and why it is so important.
In my last post I talked about setting up the environment to help maximize your child's development. Observation can help you figure out what your child needs at his/her stage of development. So, let's think about a few of the developmental domains and how observation can help us help our children:
fine motor

– watch how your child holds things. Maybe your baby is now able to pick up an object she is looking at with little difficulty. You see your preschooler is now holding a marker with the tripod grip. Your child seems to use his left hand more than his right hand. Your child does not use both hands when drawing, putting together puzzles or eating. So how does this observation help you? If you have a child under the age of one, her fine motor skills will change drastically in this first year. You will want to provide her with toys that will help her refine her grasp and that challenge without too much frustration. Once your child is a preschooler and getting closer to that magical kindergarten age, you may want to make sure he is using both hands together and crossing midline (click here for why this is important). The tripod pencil grip is important for writing in kindergarten. Please note that not all children are developmentally in the same place at kindergarten and the tripod grip is one of these areas that develops at different times in different children. What is important is that you are aware of where your child is as he is entering kindergarten. In this way you can be attuned to things that he might find tiring or frustrating and to give his teacher a heads up.

gross motor

– watch how your baby moves. Does she try to get that ball that is just out of reach? How long does she work on this before getting too frustrated? Does your preschooler like to climb, jump and catch a large ball or does he prefer to sit on the sidelines? After some time observing we can think about how we are helping or hindering our child's development. Maybe we are so worried our child is in danger that we don't let her climb trees or the playground equipment without hovering. Perhaps we are always stepping in at the first sound of our baby's efforts instead of giving her a little space to work hard towards scooting to that ball that is just out of reach. Often observation (i.e. sitting on our hands so we don't interfere) helps us change our own behavior by allowing our children to continue their behavior even when it makes us uncomfortable.

language/communication

– What does your child gravitate toward? What does she like to talk about? What sounds is your baby making? Does she respond when another person repeats her sounds? Does your baby have different types of cries? Does she stop crying on her own sometimes? Are all of her sounds distress or are some just temporary frustration? Does your child use eye contact during communication? What books does your child enjoy? What books does he find boring? What subjects is your child interested in?

social/emotional

– How does your child solve problems? Does your preschooler look to you (or another adult) to solve her problems for her or can she problem solve on her own? What makes your child happy, sad, angry, frustrated? How often does your child ask for help? How does your child deal with separation? How does he manage when things don't go his way?
There is so much I could say about observation. I will leave you with this thought. Take one item about your child/family/situation that drives you crazy. Instead of yelling or talking or reading about solutions…..observe the situation for a day (or two or three). Write down everything you see or hear. Put your emotions aside for a little while. Show your notes to your spouse/partner or a good friend. Brainstorm what you think is going on and how things could change. You may be surprised with the solutions you come up with.
Here's my last example (because I love a good story more than empirical evidence!!!) One summer my youngest son participated in a camp at our community park. The camp provided lunch for the participants. I often took my older son (who is diagnosed with autism) to the park to play at the end of the camp period and before lunch. My elder son was typically well behaved. On this particular day, around the time the park was having lunch he was having a melt down (you know, kicking, yelling, not following my direction, etc.). This was quite unusual for him. I looked around at what was happening (the other children were eating) and finally had an 'aha' moment. He was hungry. A bag of goldfish crackers later and he was happy, quiet and compliant.
So I encourage you to observe your children every day. Think about what they are doing, saying and how they are interacting. During times when life is stressful, take a moment (or a day or two) to sit back and observe what is really going on. It is in this kind of reflection that we can help not only our children on their developmental paths but also help ourselves on our parenting paths!