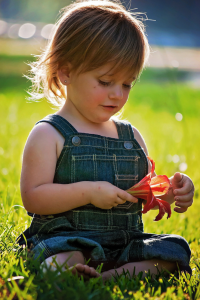 From before birth, children are gathering information through their senses from their environment. It is this gathering of information that we call learning. Children between the ages of birth and six have amazing abilities to learn in ways that humans can not recreate during any other period of our lives. Dr. Maria Montessori called this the child's 'Absorbent Mind.'
You've most likely heard children referred to as little sponges. It's so true, children soak up information like a sponge from their environment.
First, what do I mean when I use the word environment? In the 21st century when we hear this word we think about nature – the polar bears and the melting ice caps, etc. When referring to child development, I am using the word environment much more broadly. A child's environment is anything and everything that she comes in contact with: the objects and areas in which she lives and (most importantly) the people with whom she lives and interacts.
The young child's brain is constantly building connections to help him grow and learn. We are born with our neurons already formed but the connections have not yet been properly built. So nature (our biology) and nurture (our environment) must work cooperatively to help each child work his way to becoming a fully formed human being.
Let's think for a minute of all the things children seem to learn effortlessly during their first three years of life. At birth, children are helpless. They cannot hold up their heads, let alone crawl or walk. They are unable to purposefully grasp and manipulate objects.They communicate only through crying. By the age of three years, children can now walk, run and jump. They can eat independently (and even help prepare the meal!). They have learned an entire language…with no formal schooling!
Think about the last time you tried to learn something even slightly complicated. I'll use myself as an example. I've tried several times to learn to knit. I am already a competent seamstress so I do have some background knowledge about how things fit together and my fine motor skills are pretty good. However, the motor skills involved in knitting are different than those involved in hand sewing or quilting (at which I am quite proficient). So, I've read books about knitting, watched videos about knitting and practiced knitting. It's taken me untold hours and lots of ripping out of yarn to barely learn to knit and purl.
What does this example tell us? Yes, as adults we can still learn skills but it takes much longer and involves much more work to learn new things than it does if we learn them during the first six years of life. We no longer have an absorbent mind.
So why am I talking about all of this? If our children have absorbent minds we should just sit back and let them get on with learning, right? Not quite. Yes, it is true that children will learn from any environment. So it is vital that we help our children by providing the right kind of environment. In order to do that we must first learn about child development. What is my child working to master right now? In child development there are three basic areas or domains: physical, cognitive and social/emotional.
If you have a one year old, chances are he is working on learning to walk and then refining his large motor abilities. He is just starting to talk (understanding language more than expressing it). He is learning to communicate his feelings (laughing, crying and moments of serious reflection) and absorbing the feelings of others (ever been in a room where one child starts to cry and in a matter of minutes all the children begin to cry?). As parents we want to provide him with an environment in which he will continue to learn and grow in all three domains.
No matter what stage your child is in there are things you can do to prepare his environment:
Keep things safe. Make sure the physical area your child inhabits is free from dangers. Tuck cords out of sight and reach, cover electrical outlets, put away breakable and swallowable objects.
Provide proper toys/furniture. If your child is learning to pull up to stand, a low coffee table or soft ottoman can help him work on this skill independently. Children from 0-6 are very concrete learners. Minimize fantasy and toys related to media (tv and movies). There is plenty of time to show your child your favorite Star Wars movie and characters when he is older and can properly understand the fantasy nature of the show. Provide activities related to your child's skill level. Put away things he is misusing (throwing or scattering about). This usually happens because the activity is too easy or too complicated. Toys (not too many) should have a clear purpose that your child is able to use or is something she is working to master.
Be mindful of your words and the words of others. Children are always listening, even the youngest. Provide books and conversation with lots of vocabulary. Call things by their proper names. Converse with your child while you are doing things with, for and to her. Give a running dialogue about the bath or the diaper change. Speak quietly and gently. Keep background noise (television, radio) to a minimum. Save adult conversations about negative news events or emotionally charged arguments for times your children are asleep or out of the house. Children pick up not only the words you use but the emotions behind them and are not often developmentally ready to understand.
Engage all the senses. Children learn through their senses. Provide opportunities to listen to many kinds of music and to hear the different sounds that can be made with instruments or just the crunching of leaves under your feet. Talk about the multiple textures of clothing and blankets, the smells of the herb garden or fruits in your lunch box. Show your child things you love visually (different kinds of birds or trucks or quilt patterns).
Go outside. Provide your young child with lots of time in nature. Babies can lay on a soft blanket with you and watch the leaves blowing in the trees and can hear the birds singing. Take a walk and let your toddler lead. Don't be in a hurry. You will be amazed at your young child's observational skills, physical skills and the amount of focus he can muster.
Respect your child's feelings. Remember, young children are learning how the world works. Their brains are changing at an amazing rate. Children are learning to be independent while still being very dependent. It can be a difficult time for them. They may be upset at something you think is insignificant. To the young child, what you see as insignificant may be the most important thing in their narrow world. Honor it by naming it. 'You seem very sad that I had to take away Grandma's glass bowl.' 'I can tell you are angry that we had to leave the park.' Honoring emotions is not the same as allowing all behaviors. For more information on emotions, click here.
Provide order and a schedule. Young children do better when their world makes sense. They like to know what is going to happen. Bath always comes right after dinner. Daddy always reads two books at bedtime. Grandma watches me when Mommy goes to work. No, you don't have to have dinner every day at 5:30 on the dot. What is important is that your child knows to expect dinner at a certain time of day. It is helpful to have things orderly as well. Toys are kept in certain areas of the house, easily accessible. Things that are special (maybe art supplies for the very young) are kept out of reach but are used together with older brother or when Daddy comes home from work. Having an orderly environment helps the child form an orderly brain. It helps form concentration and attention. Does that mean you have to be a total neat freak? No. Just remember that your child is absorbing everything in her environment. Having things in order (we eat in the kitchen, bowls, utensils and napkins go in this low cabinet, etc.) assist the child as she is learning about her world.
Spend time. This is the most important gift you can give to your children. Figure out a way to spend time enjoying each other's company every single day. Turn off your phone and power down the tv and computer. Give all of your attention to your child. Sing, cook, put together puzzles, coo with your baby, play games as a family, go to the park. Whatever it is that you do, enjoy it and focus entirely on it. There is no email or phone call or Facebook meme that can impact the world in the same way as giving all of your attention for part of your day to your children.
Today I challenge you to pick one thing to enhance the environment of your child or children. Think about what they are learning and add (or subtract) something to make that learning more meaningful. And, most importantly, spend time and enjoy your child just as she is, today.