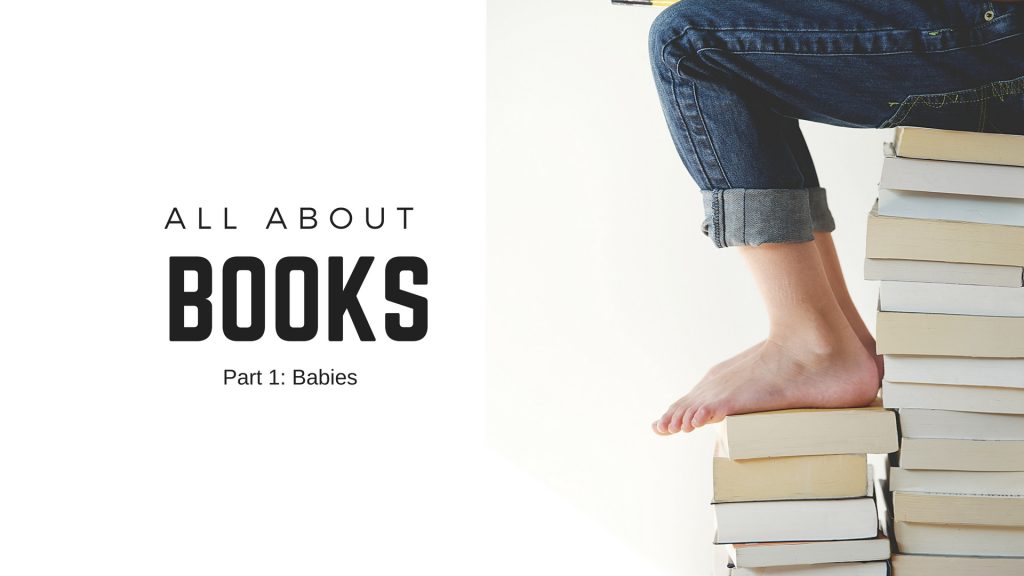 June is here! I don't know about you, but summer always makes me head to the library for some new books. Although I always have a non-fiction book about child development or how the brain learns language or some Montessori philosophy book or other on my bedside table, I also welcome summer with a stack of fun fiction. Something to lose myself in and to relax once my school year has finished. I also just reorganized my children's books. I pulled out the books that I might want to use for the Toddler Camp I'm heading up at a local Montessori School and purged a few boxes of books that I never used. All this book sorting and library going made me think about how important books are to children and how important it is to have a little knowledge about how to pick books for different ages. So this is the first of three blog posts about books.
Today I want to talk to you about babies and books. I think it is so important when choosing anything for a child (be it clothing, books, games, furniture or toys) that we first think about that child's developmental stage. So what do we need to know about babies before we choose books? And for this post, I'm talking about children from birth to 12 months.
The first year of life is full of tremendous changes. Your baby is born with limited abilities. She can't focus her eyes very well and not very far (about from breast to mom's face). She isn't able to purposefully grasp any object and can't really move on her own. At one year of age she is a very different child! Some children are walking and running and have started saying a few words. Her skills with her hands and fingers may have progressed from whole hand raking of objects to beginning to pick things up with thumb and finger (although very unrefined).
How does this help us choose books? Perhaps most importantly we need to remember that children at this age have what we refer to as an Absorbent Mind. They are unconsciously learning from their environment. So we want to make their experiences as rich as possible. Here are a few tips when choosing books for children under age 6.
Find books with beautiful illustrations.
The words should use rich language. Children from 0-6 are in a sensitive period for language. They have a capacity to learn words almost effortlessly during this period of life. Let's give them the proper names for everything and help them learn to describe what they see in multiple ways!
Keep it concrete. Choose stories and books that are about real life.
Match the word/illustration ratio to your child's developmental stage. This means few words and simple illustrations for babies and increasing words and more complicated illustrations for older children.
For infants you may want to choose books that are all illustration and are printed in black and white. I love these books by Tana Hoban.
Of course for an infant, I also recommend reading anything outloud (being mindful of the content, of course!). Babies are listening to everything about our language. They are taking in our inflection, cadence and how we break apart sounds and sentences. Reading to your baby (and even your unborn child) is helping him learn to understand and speak even if he won't be able to do so for a long time!
Other books that are lovely in the first year of life involve few words on the page, simple illustrations and are generally sturdy for little hands to explore (ie: the board book!). Books that have some sensory component to them are great as well since your child is learning through all his senses, not just visually. Here are a few I love.
I could go on and on but this gives you a little sampling of the type of books your baby will love. I always try to keep a little basket of books in our general living area that I rotate. Don't overwhelm your child with too many at a time. And, perhaps most importantly, if your child doesn't seem interested in a book put it away and keep searching for the books she enjoys. Use your local library, too. We have wonderful libraries in our town and the librarians are a wealth of information.
I hope this information was helpful to you. I'd love to hear about the books your children love. Post them in the comments, please! Next week I'll be sharing part 2: Books for Toddlers.